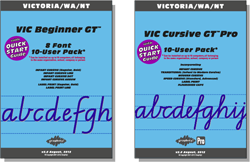 Packs
Individual Beginner Fonts
All the fonts from the Beginner Pack above may be purchased individually below along with some additional fonts not included in the Beginner Pack. If you need six or more Beginner Pack fonts below, buying the whole Beginner Pack is better value.


Extras
---

ANY QUESTIONS?


Buying from outside Australia? Exempt from 10% Australian Goods & Services Tax – GST. Email us and we'll invoice you direct without GST.

Need a Site Licence? Multi-Users – more info here. Price List. Use the appropriate Multi-User option in the "Choose Licence" menu above.

Need a Web Licence? Need to embedding our fonts in your Website? – more info here. Price List.

Need a Publishing Licence? Using the fonts in Apps, Books, Games, Manufactured items etc – more info here. Price List.

Need a Home Licence? 1 User, max 2 computers, personal use. Email us for a 25% Home Discount code for use with Packs/Individual fonts.
Note: This offer excludes the Complete Australasian School Fonts Bundle. This offer is not available to teachers and
other education professionals. More information here. Price List.