Why should you choose Australian School Fonts™?
Enquiries


LATEST RELEASES!


THE ULTIMATE GEOMETRIC SHAPES FONT PACK!

Check out our new 4-font Geometric Shapes teaching resource. Contains 2D Outline, 2D Solid, 3D Outline and 3D Solid fonts plus a comprehensive 11-page PDF User Guide. Beautifully drawn with mathematical precision – can be confidently enlarged to any size. The 2D fonts contain 86 standard two-dimensional geometric shapes – circles, foils, polygons, polygrams, arrows, crosses, stars etc. The 3D fonts contain 33 standard three-dimensional shapes – spheroids, cylinders, cones, pyramids,
prisms, the 5 platonic solids, regular & stellated polyhedra.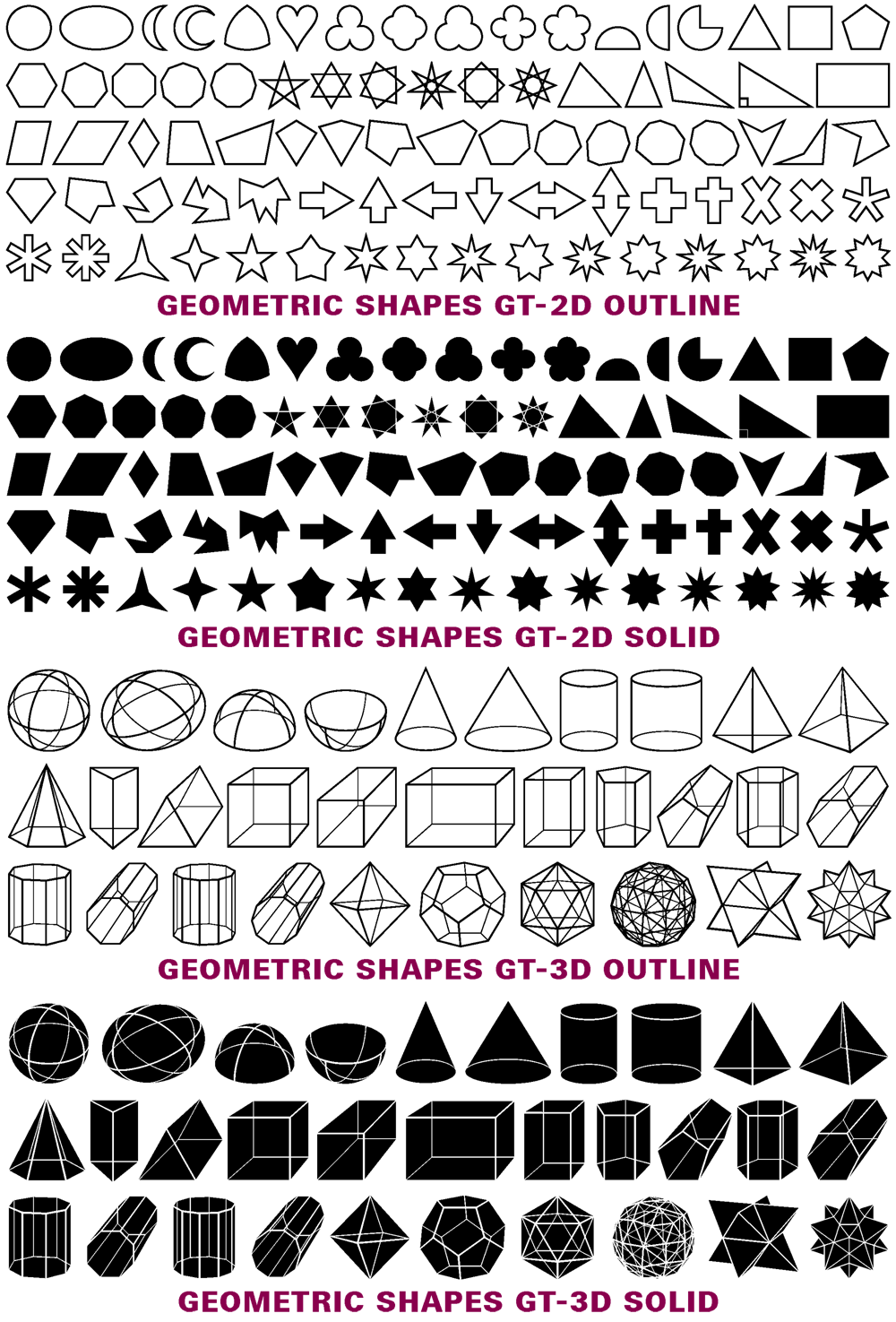 Available now in the Packs section on each State's Shop page.
Exclusive to Australian School Fonts.
WE'VE ADDED NON-ENGLISH LANGUAGE SUPPORT!

If your child is learning any of the languages below at school - or if you're a teacher of any of these languages in your classroom – all the special characters you'll need can now be found in our Beginner Regular and Thick fonts for each State. Fully compliant with Unicode 13 – so your text can be transferred to and from other Unicode fonts and you can use the same installed software keyboards that you normally use to type in the language of your choice. We also include two bonus custom Mac and Windows software keyboards Australian Aboriginal GT and Phonetic Latin GT
which are exclusive to Australian School Fonts.


LANGUAGES NOW SUPPORTED IN ADDITION TO ENGLISH:




Australian Aboriginal languages (all), Basque, Breton, Catalan, Croatian, Danish, Dutch (incl Afrikaans),
Esperanto, Estonian, Finnish, Flemish, French, Frisian, German, Hungarian, Icelandic, Indonesian,
Italian, Phonetic Latin (Classical), Latvian, Lithuanian, Lettish, Māori language (New Zealand),
Pure Motu and Hiri Motu (Papua New Guinea), Norwegian, Polish, Portuguese (Timor-Leste),
Romanian, Samoan, Slovak, Slovenian, Spanish, Swedish, Tagalog, Tetum (Timor-Leste),
Tok Pisin (Papua New Guinea), Tongan, Kala Lagaw Ya (Torres Strait Islands),
Turkish, Vietnamese, Welsh and more.




... AND WE'VE EXPANDED MATHS SUPPORT!




Type this... Get this


Type "hyphen" Get correct "minus" sign


Type letter "x" Get correct "multiply" sign
Our new Beginner Regular and Thick fonts and also our new Tight Text™ fonts
for each State allow you easily create correct-looking mathematical expressions
including vulgar fractions using very simple keystrokes. For more info, see here.




... AND INTRODUCING OUR NEW TIGHT TEXT™ FONT FAMILIES!

Have you ever wanted to use your school fonts for normal text (letters, booklets,
documents, pupil's reports, newsletters, school website etc) but found that the
line-spacing was too wide and the letters too small? We've created a Tight
Text™ family in each State style that is exactly the same style being used
to teach handwriting but has reduced capital height, ascender
height, and descender depth so that the font works just like
any standard text font eg Arial, Times, Helvetica.*
Info on Tight Text™ language coverage here.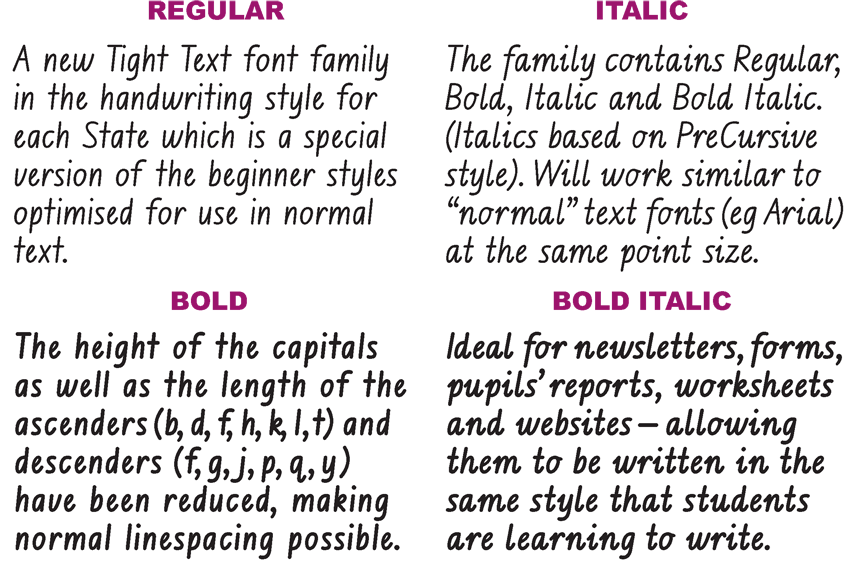 * Tight Text™ fonts are not intended or recommended for use in the actual teaching of handwriting in the initial & early stages.




TEACHING OR LEARNING SANSKRIT IN YOUR SCHOOL?

Created by the font designer at Australian School Fonts® for the
Jyotirnidhi Nyasa Trust UK, this new professional state-of-the-art
Devanāgarī + Latin Unicode font is now available for
FREE download here.

______________________________________________________________________


FULLY COMPATIBLE WITH MAJOR OPERATING SYSTEMS†


MACINTOSH, iOS, WINDOWS*, ANDROID, and UNIX *excluding WINDOWS 10S/WINDOWS 10 in S-Mode.
† NB Only Google Fonts and/or Extensis Add-on fonts can be used in Chrome OS or Google Docs.



RECOMMENDED APPLICATIONS
(for more details see Support and Phones and Tablets vs Desktop Computers)


NO MINIMUM PURCHASE!
There's no requirement to buy whole Packs – just get the fonts (or font) that you need.


Your cursive text joins instantly and automatically as you type.
EVERY lettershape, EVERY join & EVERY joining level that's in the syllabus – GUARANTEED!




Based on the Victorian Modern Cursive style (the

officially recommended style for NT & WA) with all the additional letters for writing the Yolngu (Arnhem Land NT) & Anangu (

Central Desert

WA/NT) languages as well as most of the other Australian indigenous languages - see below.

The fonts are fully compatible with the Australian Society for Indigenous Languages software keyboard and the Charles Darwin Uni font A Yolngu NTU (2001). Beginner, Print and Cursive styles available. NOTE: All State's Beginner Regular & Thick fonts and also Tight Text fonts now have the full range of special indigenous letters. Check out this link to Gambay – First Languages Map site here.


YOLNGU ANANGU Font Info Quick Look SHOP




• NSW VIC QLD SA TAS NZ • NO MINIMUM PURCHASE • 10x COMPUTER LICENCE • MATHS SYMBOLS INCLUDED • BUILT-IN WRITING LINES • JOINS AUTOMATICALLY • FREE TECH SUPPORT & UPDATES • INSTANT DOWNLOAD • WORKSHEET BLANKS & POSTERS INCLUDED • 25% HOME LICENCE DISCOUNT • NO REPEAT LICENCE FEES • MAC+WIN (excludes WINDOWS 10S and WINDOWS 10 in S-Mode) • UNICODE 14 COMPLIANT •
Australian School Fonts® for Windows and Mac are a high quality, affordable resource for the teaching of Aussie and Kiwi school handwriting styles. The fonts, manuals and resources have been created by a former teacher, now one of Australia's leading type designers and computer font technicians.
Designed for pupils, parents who home-school, teachers, pre-schools, child care centres, schools, educational publishers & web designers and even for graphic artists looking for an authentic handwritten look for their designs.
All the different official Australasian modern cursive styles are available – New South Wales Foundation style (also used in the ACT as well as some schools in Victoria), Victorian Modern Cursive (also used in the NT as well as some schools in Western Australia), Queensland Modern Cursive (also known as QCursive), South Australian Modern Cursive (also used by some schools in Western Australia), Tasmanian Modern Cursive and New Zealand Modern Cursive. There's also a complete version of the Victorian Modern Cursive package especially for the Yolngu and Anangu indigenous languages, the Victorian style being the default for WA and NT.
Over 20 years in development, these professional quality fonts are in the latest smart-font format (OpenType) and comply precisely with the most up-to-date official Education Department curriculum and syllabus for each region, covering all teaching levels from the beginner's alphabet to fully cursive joined-up script. Your cursive text joins instantly and automatically within your application in real time as you type. All font purchases include a comprehensive User Manual (with Quick Start Guide) containing full instructions and teaching materials for unlimited classroom use.
Free, fast-response technical support by email or phone (7 days a week including all public holidays) is provided personally by the creator of the fonts. There's no minimum purchase - buy just the fonts (or font) that you need. Pay just once for your lifetime font licence – no repeat annual fees! Just choose the style you need and buy securely online now with instant download – no waiting for fonts to be emailed to you or for a disc to arrive in the mail! Multi-User (Site) Licences for schools and other organizations can also be purchased online.